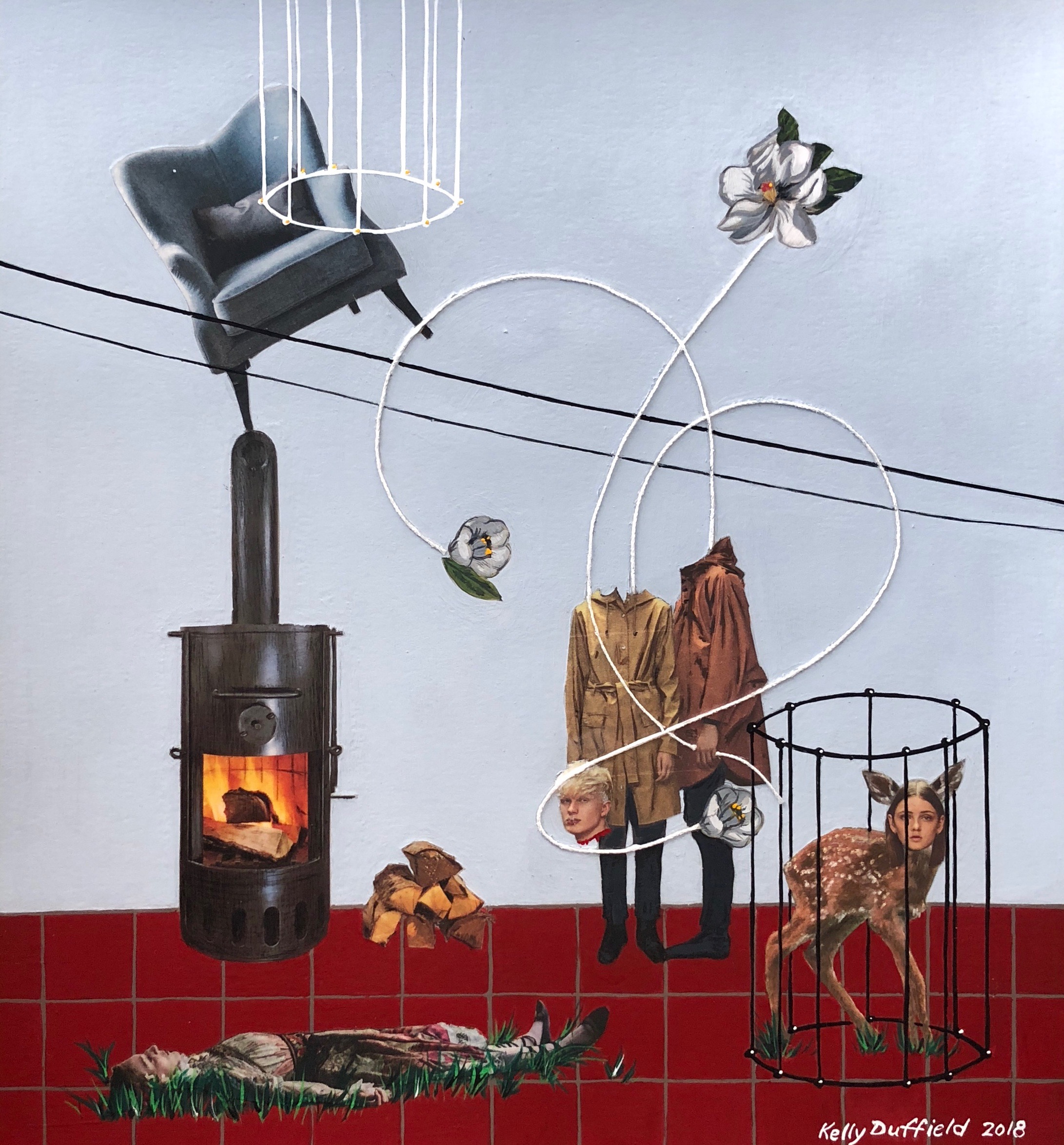 Materiality
Opening reception at Seidel City May 18, 6pm - 9pm
Paper, clay, resin, cloth, yarn, beads, organic materials, found objects - these are the building blocks of the artworks created by the five Vibrant Femmes artists in Materiality. With a strong focus on process and texture, the pieces on display demonstrate the wide array of creations possible when artists move beyond painting, sculpture and photography. The artworks share an extreme attention to detail and use of meditative, time-intensive processes.
Themes of nature and mysticism are woven throughout the works, with Seidel City as the perfect setting: surrounded by open space and mixed use buildings focused on art, music and making, there is a raw and magical quality that the setting and the works share. The inherently tactile properties of the art invite the viewer to contemplate the variety of techniques that each artist is using. The hope is that you, the beholder, will leave inspired to get outside, experience the textural and the immediate in your world, perhaps get your hands dirty in homage to the tactile and the now.
Featuring work by artists Tracey Bergrud, Kelly Duffield, Eva Maier, Julie Maren and Liz Quan.
Eva Maier
ARTIST STATEMENT
Starting at an early age I was exposed to the arts and crafts by two very creative parents. My mom sewed and knitted clothes, painted furniture, made carnival costumes, and much more. One of my best early childhood memories was when my father took me to his work at the textile design studio. There I was able to paint with acrylic paints on large pieces of paper. I still fondly remember the smell of the paint in the studio. I also grew up during a time, where in a small Swiss mountain town, there still existed clear gender separations at school. Us girls had to learn everything from mending socks to knitting sweaters and sewing our own clothes. Back then, this seemed like a punishment since I wanted to take technical drawing with the boys instead. Now, I am grateful to know how to apply those fiber crafts in the creation of my sculptures.
For many years I focused on oil painting until about 4 years ago, when I welcomed sculpture back into my life. My sculptures are 3-dimensional collages. In these assemblages I combine different parts that play with contrasting materials — ceramic and fiber, smooth and rough, hard and soft. I create, knit, crochet, sew, needle felt, build, and glaze all the parts. I enjoy working with clay and glazing the ceramic pieces, and I very much enjoy the crafting aspect such as knitting and sewing. For fabrics I like to use repurposed antique tea towels and linens that I often dye with tea or coffee. I welcome the idea of including traditional crafts and materials in what we consider fine arts. Some of the inspiration I find in the carnival culture, which has been a big part in my life.
The sculptures are little companions that have been inspiring me and have been challenging me to branch out with my artwork. Working on these pieces has brought back some of my early uninhibited creativity.
I earned a five year degree in fine arts and graphic design at a Swiss art school. After a career as a graphic designer and later an internship working with disabled children I moved to the United States. I studied sculpture and painting at the University of New Orleans, and graduated with a painting degree from the University of Colorado in Boulder.
I have shown my work at different venues in the US and Switzerland and currently have my sculptures represented at LeMieux Gallery in New Orleans, LA.
Everything Will Be Revealed in Time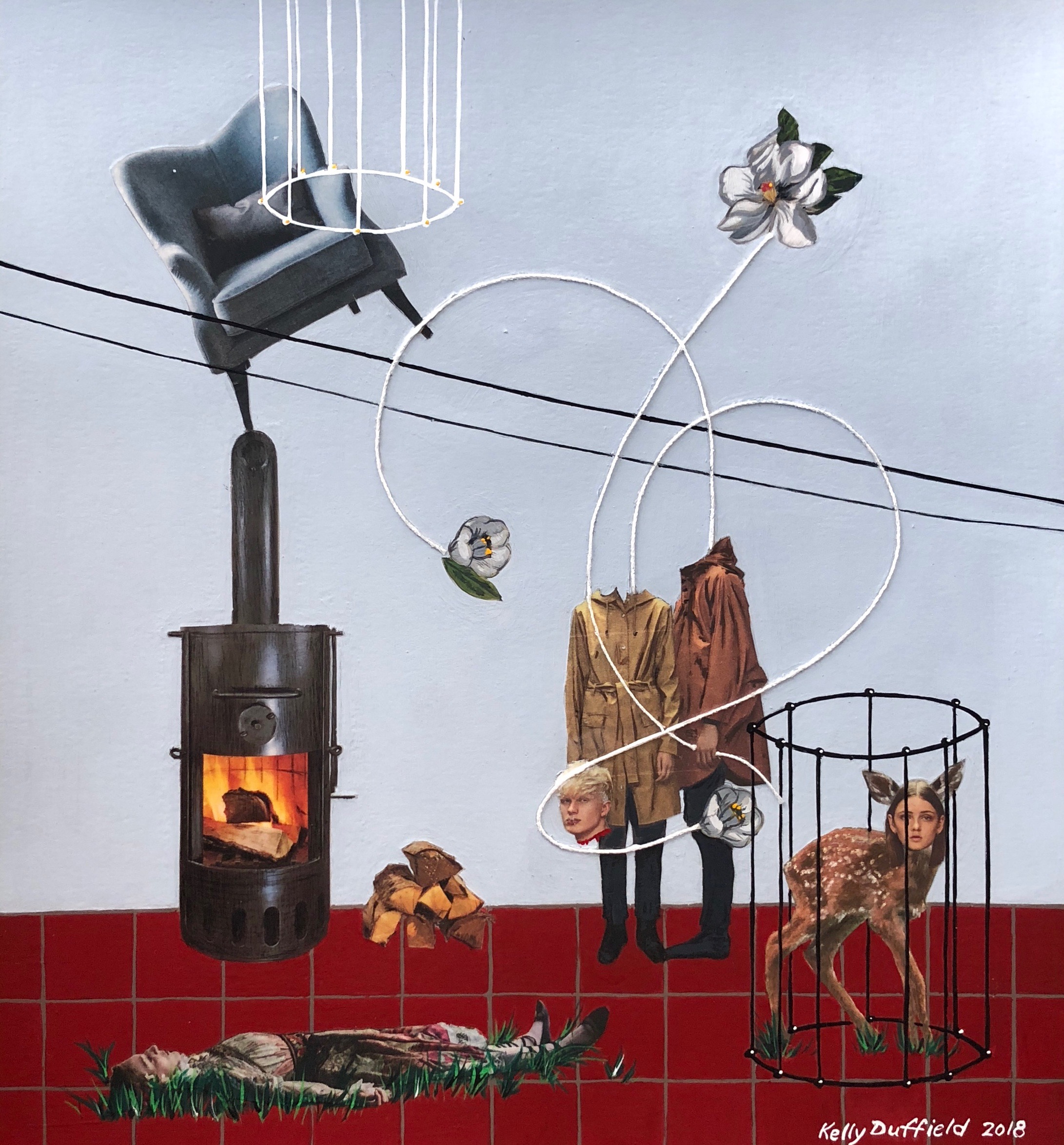 Kelly Duffield
ARTIST STATEMENT
My paintings contain elements of drawing and collage to create scenes that are often strange, surreal and sufficiently ambiguous to evoke the viewer's imagined or projected meanings. My imagery emerges from everyday life, sometimes from a specific story or memory, but always charged with psychological, symbolic and surreal import.
When creating these narratives, I begin with the collage elements and take cues from them, painting and drawing over and around them, sometimes layer upon layer. I also use white kitchen string: sometimes connecting flower-minds, sometimes stitched in the background, always telling part of the story.
This body of work emerged after more than a 20-year separation from making art in earnest. Near the end of college, and in the interest of getting a secure job, I changed my formal path from art to law. Now after nearly 15 years of practicing law and having a family, I have returned to art as a profession. My work is inspired by my life, by family, relationships, motherhood, feminism and modern consumerism/materialism.
Over the last year, I have shown at various galleries, art centers and events in Denver and Boulder, including Rethinking Urbanism: Redline's 5th Annual Juried Exhibition, Redline Contemporary Art Center, Denver, CO and Untitled, 15th Street Gallery, Boulder, CO Solo Exhibition.
Kelly Duffield grew up in Oklahoma City, OK. She has a BFA in art and a BA in art history and interned at Universal Limited Art Editions (ULAE), New York. Kelly and her husband Erik Duffield live in Boulder, CO with their five children and golden retreiver.